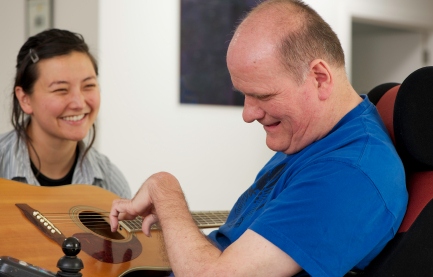 The Office of Developmental Primary Care is pleased to announce the CART Services Mobile Consult Team! Learn more about this exciting new program here.
WHAT IS CART SERVICES?
CART Services is a multidisciplinary mobile health care consult team providing services to transition-age youth and adults with developmental disabilities, clinicians, family members and support professionals throughout northern California. We are a program of the Department of Family and Community Medicine at the University of California, San Francisco. Our team includes experts in primary care, nursing, psychiatry, psychology and caregiver support.  
WHO DOES CART SERVICES SERVE?
CART Services supports clients of the Alta California, Far Northern, Golden Gate, and Redwood Coast Regional Centers.
WHAT SERVICES DOES CART PROVIDE?
CART Services include:
Phone and email consultations
Information and resources
In-service training and grand rounds for health care professionals
Trainings for patients, families, and service providers
Comprehensive, multidisciplinary consults in patient's homes (on a limited basis)
QUESTIONS?
For questions about CART Services or if you have a question that we can answer by phone or email, please contact us at: 415-476-4641 or [email protected]
If you would like a consult and are served by one of the regional centers listed above, please contact your Service Coordinator.
_________________________________________
The CART Services Team is supported by Alta California, Far Northern, Golden Gate, North Bay, and Redwood Coast Regional Centers which are overseen by the California Department of Developmental Services.